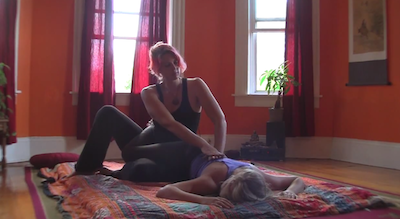 Thai Yoga Massage
by Mary Goodman
Experience Thai Yoga Massage in Boston, Cambridge, and Somerville
Your Thai Yoga Massage can be customized to your own special needs. Whether you want to relax and and release stress, want special attention to specific areas in your body or want a strong full body massage that targets all the muscle groups in the body, Thai Yoga Massage is the perfect treatment for every body.
"The best Full Body Massage I have ever had"
offering the benefits of both massage and yoga
a full-body, toe to head, massage tailored to your needs
Mary offers Thai Yoga Massage in Boston, Cambridge, and Somerville.
She also offers mobile Thai Massage. For ultimate relaxation we travel to your home or hotel in the greater Boston area.
"Thai Massage with Mary was excellent, thorough, compassionate and relaxing"
Book your Thai Yoga Massage appointment now >
Rates are sliding scale*
An 85-minute session is $105 to $185
A 55 minute massage is $100

Sliding scales are my unique way of practicing Dāna or generosity. It is up to the client to decide on a rate that reflects what they can comfortably afford, and what it is worth to them, ideally reaching a number that can ensure a sustainable relationship for all parties.
*Sliding scale rates do not apply for same day bookings, weekend bookings, home visits, or visits ending after 7 pm..
Cash, cheque, paypal, Venmo, BoA transfers, and Google Wallet are accepted for payment.
Book your Thai Yoga Massage appointment now >
Mary is awesome – and I really like the way she took the time to get to know me. We chatted about lots of different things – friends, family, life – all while she diligently worked to undo the painful knots in my shoulders. The true testament is the range of motion I have going in (can't turn my head from side to side), and the range of motion I have walking out (spins around 360!!!)
I absolutely love getting massaged by Mary. She takes the time to figure out what you need and with her knowledge of the thai massage is able to pick out techniques to suit your exact requests. Her soothing voice, confidence in her practice as well as her smooth transitions lull you into relaxing to gain the full benefit of your experience. She paces her movements beautifully with your breath, and is not afraid to remind you to breath if needed. Mary is also attentive to requested varying pressures ranging from a lovely relaxing massage to a deep massage revealing muscles you may never knew existed.
Mary is a rarity. She is well practiced, constantly furthering her education, and is naturally skilled at her Thai massage. Not only am I pleased with her work, I am confident that, based on her devotion to massage, she will continue to improve. For those of you whom haven't tried Thai massage, its time to. You certainly won't regret it.
This was like an investment in my muscles. Typically massages just feel great while they are going on and you feel relaxed after. This is more like rehab for sore/torn muscles. Pretty sure I'll feel great for days. Highly recommend. She is also very laid back and friendly too.
Mary Goodman, Certified Thai Massage Practitioner
Phone: (617) 575-9104
Somerville Location
Somerville Thai Massage
17 GIlman Terrace
Somerville, MA
Cambridge Location
Cambridge Thai Massage
318 Western Avenue Unit 3
Cambridge, MA