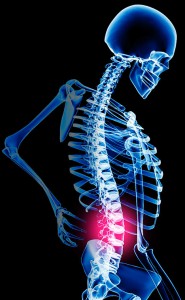 Thai Massage for Low Back Pain Boston
If you have lower back pain, you are not alone. Nearly everyone at some point has back pain that interferes with work, routine daily activities, or recreation. Americans spend at least $50 billion each year on low back pain, the most common cause of job-related disability and a leading contributor to missed work. Back pain is the second most common neurological ailment in the United States — only headache is more common. Fortunately, most occurrences of low back pain go away within a few days. Others take much longer to resolve or lead to more serious conditions.
Acute or short-term low back pain generally lasts from a few days to a few weeks. Most acute back pain is mechanical in nature — the result of trauma to the lower back or a disorder such as arthritis. Pain from trauma may be caused by a sports injury, work around the house or in the garden, or a sudden jolt such as a car accident or other stress on spinal bones and tissues. Symptoms may range from muscle ache to shooting or stabbing pain, limited flexibility and/or range of motion, or an inability to stand straight. Occasionally, pain felt in one part of the body may "radiate" from a disorder or injury elsewhere in the body. Some acute pain syndromes can become more serious if left untreated.
Chronic back pain is measured by duration — pain that persists for more than 3 months is considered chronic. It is often progressive and the cause can be difficult to determine.
Since Thai massage is both a mechanical and energetic modality, it has been a source of relief for both short and long term back pain issues.
The impact Thai Massage has on the body is similar to that of yoga. The stretches guide the body back into proper alignment, improving overall posture. Thai Massage has been proven to correct skeletal problems, even counteracting some degenerative spinal diseases such as kyphosis, scoliosis and lordosis. Improved posture allows joints to move within their intended ranges and positions, reversing and / or preventing pain within the them.
The opening created by the stretches in Thai Massage relieves excess stress on the skeletal body including the spine. The reduced stress on the on the skeleton reduces stress on the low back.
Some joint pain is caused by tight (shortened) muscles which pull on the muscles, causing pressure and sometimes misalignment on low back muscles.. The combination of gentle massage and stretches in Thai massage relaxes and lengthens tight muscles. This takes pressure off the back and allows them to fall back into proper alignment, relieving the pain. Additionally, the muscular flexibility gained in a Thai massage allows for greater range of motion.
https://thaitherapybymary.com/wp-content/uploads/2014/12/bpjpgbp_1375745244.jpg
757
468
Mary
http://thaitherapybymary.com/wp-content/uploads/2023/03/Thai_Therapy_Logo.png
Mary
2014-12-05 19:50:28
2014-12-18 17:47:29
Thai Massage for Low Back Pain Boston